WELCOME TO UTOPIA
Developing skills for cross-curricular teachingin a community-based
and outdoor environment
MAKING EVERY CHILD GROW TO BECOME THE BEST VERSION OF ITSELF
Our Story
Traditional ways of teaching can no longer live up to the expectations of society and to the demands of quality education for the 21st Century. Changes in curricula and measures for continuous professional development attempt to close the knowledge gap and change the role of teachers profoundly but fail to provide a solution for the growing disempowerment of teachers all over Europe. Teachers are faced with inescapable challenges concerning the wellbeing and the future of our children. Pupil populations are becoming increasingly diverse, and accordingly the demand for flexible education is growing steadily. Addressing these issues demands for new forms of teaching and adequate tools, in line with the needs of a broad range of children, including children with diverse needs and migrant refugee children. It also demands for the professional development of teachers, in line with individual needs and school objectives.  In addition to enhancing knowledge, teachers need to upskill to meet growing competence requirements.
To meet these needs, Windekind set up the Utopia project in collaboration with eight partners, active in the field of education. Utopia aims to increase both pupil engagement and teacher efficacy in and outside the classroom by developing and implementing strategies for whole school improvement in primary education and by monitoring the impact on all partner schools.  
The project 'Utopia' aims to improve the quality of learning experiences and enrich the learning environment to better meet the needs of children. We aim to do this by professionalising teachers in cross-curricular teaching and by providing them insights on outdoor education and community-based teaching.  We will enhance their knowledge and skills to collect and use data for whole school improvement and make them experience the benefits of connecting research to practice. We believe that we can strengthen teachers and let them regain control and confidence in their profession.
The main objective of this project is the professional development of primary school teachers. We want to support them in developing high-quality and innovative teaching methods, upgrade their existing skills and thereby helping them to step out of their comfort zone to embrace the challenges of the future. We aim to achieve change through self- and whole school improvement and exchanging good practices.  Our main target group are teachers and other primary school staff members.
In a partnership of seven primary schools from Belgium, London, Wales, Slovenia, Spain, Greece and Bulgaria, complemented by specialists from the university of applied science, Thomas More and specialists from the Department for Education and Children of Wales, we will organise learning and training activities, both physically in training events and project meetings and online through eTwinning, and facilitate the exchange of good practices to enhance the motivation, knowledge and skills of teachers, to make teaching more effective and to foster a culture of lifelong learning in the schools. Additionally we aim to develop an innovative toolkit with digital tools next to tutorials and publications to support educators in their endeavours to provide high quality learning experiences in meaningful and realistic learning environments. The toolkit will support teachers to move from traditional instructional approaches to the development of innovative pedagogical practices and to extend these innovations in a structural manner.
Our Approach
With this project we want to facilitate teachers in upgrading their skills and help them to step out of their comfort zone to embrace the challenges they are confronted with. Therefore we will make the professional development of teachers our main focus. We want to support them in developing high-quality and innovative teaching methods that will help them to deliver on inclusive education.
We also want to emphasize on the  'supporting' part of the priority 'supporting educators'. We do not want to pose changes upon teachers, rather we want to make them experience how taking an active part in this project can support them in their profession long term.  This implies the use of  specific strategies to stimulate their professional development and to help them move forward. 
Research shows that teachers learn most effectively when activities require them to engage with materials of practice, when activity is school based and integrated in the daily work of teachers and when the pedagogy of professional development is active and requires teachers to learn in ways that reflect how they should teach pupils. This provides some perspective as to why we  will use the outdoor environment and the local communities to meet these criteria.
To deliver on quality improvement of practices, we want to make teachers experience the benefits of connecting research to practice and provide them with the tools and skills to use research in their daily work. Evidence-based practice should be embedded in all schools, supporting the professional growth and development of teachers.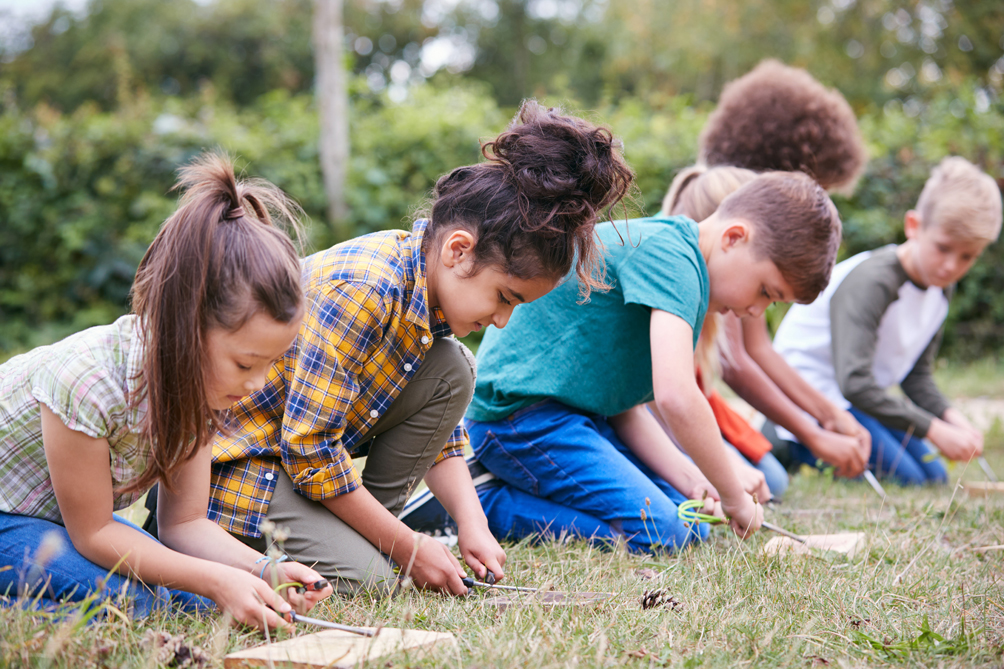 SIGN UP AND STAY INFORMED